Welcome to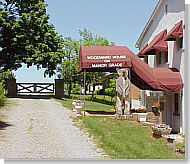 Front Royal's best kept secret! Perched on a hill overlooking our village with incredible views, yet close to all of it's charms.  The Woodward House Bed and Breakfast is just the spot you've been looking for.
The moment you enter its cozy elegance you feel that down home warmth, just like you imagined going home would be, a gentler, quieter time.
When your day draws down and dining is the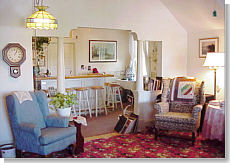 order of the day, share complimentary wine or beer on tap in our Pub, while Joan and Bob, your innkeepers help direct you to that special meal to cap a great day. It's a chance to meet other guests and compare adventures.
Upon your return you can join the others in the Pub or retire to your accommodations: 2 rooms, 4 suites and 2 cottages, all with private baths, cable TV, complimentary snack baskets, bottled water and homemade cookies. The suites have small refrigerators and Wi-Fi access.
The crown jewel in your stay may be our skip-a-lunch breakfast. Consisting of a fruit course, eggs most anyway, selection of omelets, French toast, waffles and pancakes and finally Joan's homemade muffins.
Unforgettable Hospitality
Leaving this cozy ambiance may be difficult; however, local areas for adventure are quite alluring. You are staying just 1/2 miles from Skyline Drive with its many hiking trails, wildlife treats, and scenic vistas of the Shenandoah Valley.  Washington D.C. is but 70 miles from Front Royal. Within a short distance from the Woodward House are excellent wineries, fine restaurants, all water sports, golf courses, antiquing, auctions and flea markets.